Book Lovers' Fundraiser April 15, 16
April 15, 2016 @ 9:00 am

-

April 16, 2016 @ 1:00 pm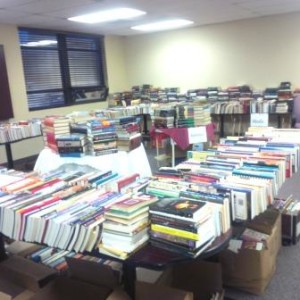 Here's your chance to score some really great used books.  We sell hardcovers for $2 and softcovers for $1.  Tell your friends!
Do you have a box of Christian books you would like to donate? We are glad to pick them up. Email Richard
Note: We are unable to take cassettes, 8 tracks, VHS, or vinyl. Glad to have CD's or DVD's if you would like to donate Christian music or teaching materials.  Yes, we will take sheet music.
Left over books are donated to the Christian Salvage Mission who distribute them to pastors in the developing world.  We have been able to give 3000 books in the last couple of years to this worthy cause.
Hours:
Friday April 15th  9:00 AM – 5:00 PM
Saturday April 16th 9:00 AM – 1:00 PM   Come early for great deals!
Location: The One Way Ministries office at 89 Auriga Dr.